Hello! Thanks for letting me into this community
Just one thing to get off my chest...
In regards to the "PUA (pick-up artistry), "game," and our stance" section in the Love-Shy.com FAQ, as a pickup artist (in training), I find it offensive when PU game is described in a blanket fashion as "sleazy". I think what the author of the FAQ failed to recognize is that there are two types of PUA game: outer game and inner game. Beginner PUA's start with the canned material and tactics of outer game and then progress towards becoming more naturally attractive (natural PUAs - who are confident at a core level and also know the structure and science of game - a deadly combo).
I have been in the field training as a PUA for a year (stopped for financial reasons but looking to get back into it) and I can confirm that PU does work (my peak session: I've out-alpha'd an ex-NFL player AMOG (alpha male of group) and got a kiss close with my target within 10 minutes). And I didn't even practice that much when I was a PUA. Most of the time I was on PUA forums or reading/watching PUA books/videos while being afraid of getting out there getting my feet wet and getting rejected. At a house party, after being rejected by one set, I stopped approaching sets and sat on the steps of the basement stairs shedding man-tears for the whole night.
However, two years after my PUA hiatus, I've noticed that I'm still not truly confident as confidence was just a mask that I wore every friday night (along with canned material and peacocking), not part of my core being. It's not because PU doesn't work, it's because I haven't gotten to the level where I start improving my inner game. I was still at the level in which I'm using training wheels (outer game), that's why my inner game hasn't improved.
But I was definitely more confident overall when I was out regularly gaming girls 2 years ago than now.
In my opinion, I think PU can help a lot of LS dudes here. Just got to look past the stereotype of PUA's brought on by shows like "The Pickup Artist" and see that PUA is diverse, ranging from Mystery Method to Direct Game.
I'm not going to advocate PUA game heavily on this forum b/c there's plenty of PUA forums out there for that. I think there should be some great non-PU advice on here, which is why I'm here, b/c I'm suffering from general social anxiety (though I have learned to mask it very well).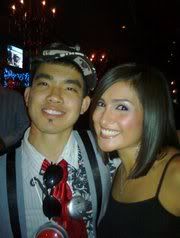 This was me when I was a PUA